In the spirit of Haman, LeBron James posted a disturbing tweet of the officer involved with the Ma'Khia Bryant shooting with a caption that read, "You're Next."
Then he deleted the tweet saying that his tweet was "being used to create more hate". You think…? He didn't think that what he posted was hateful, to begin with?
In the same tweet 'queen james' whines saying "I am so desperate for more ACCOUNTABILITY".  Which is code for "let's abolish the police" or at least abolish white people from becoming police".
Again, this is all done in the spirit of Haman. Pure hate. He knew full well by posting a picture of the officer, doxing the officer would open the flood gates of violence and possible death on this police officer.
What LeBron James is in desperate need of is the gospel of Jesus Christ. Only the gospel of grace has the power to transform LeBron James's heart.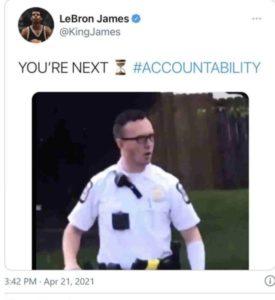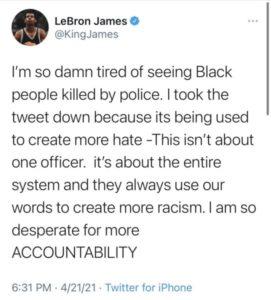 Written by Jamie Pantastico