A group of professors at the supposedly Catholic University of Notre Dame blasted pro-life advocates as racists during a campus event in January.
The panel discussion, hosted by Notre Dame Gender Studies Department, the St. Mary's College Gender Studies Department and Irish 4 Reproductive Health, featured several professors who argued against unborn babies' rights and Catholic Church teachings, One News Now reports.
"Those who push so aggressively for reproduction – continued reproduction without any controls – are those who are also more likely to be in support of making sure the country stays predominantly, overwhelmingly white," said Dianne Pinderhughes, professor of Africana studies and political science.
The Irish Rover, the student newspaper, reports Pinderhughes also argued that the abortion debate is about controlling women's places in society.
"[Abortion] is an issue that allows for an effort to control the place of women – I'm sure you figured that out, or you wouldn't be at this event – but also how people will reproduce, what the population will be, what it will be like," she argued.
Other professors made similar arguments in favor of killing unborn babies. Pam Butler, a professor of gender studies at Notre Dame, also implied that racism is at the root of the pro-life movement, according to the report.
"[Abortion] got politicized in a moment of a white supremacist strategy of the right wing of the Republican Party to mobilize a very specific set of evangelical Christians in the United States as a base," she said.
A self-described long-time reproductive rights activist, Butler said she became involved in the 1990s and volunteered at her first abortion clinic during her senior year of high school.
Click Like if you are pro-life to like the LifeNews Facebook page and receive the latest pro-life news.
Butler suggested that the pro-abortion feminist movement also may be too white, saying, "The white-dominated feminist movement concerned with reproductive rights focuses almost exclusively on the right to an abortion – it seems like we're capitulating to the framing of the issue that was defined by the 1980's evangelical white supremacists.
"Black and indigenous feminist activists have been telling us for decades that when you separate out abortion, and you separate out contraception, the right to not have a child – from a broader fabric of reproductive politics and freedoms – you're creating reproduction as a white woman's issue," she continued.
But Notre Dame Right to Life Vice President Matt Connell called their arguments puzzling.
"Professor Pinderhughes' suggestion that the pro-life movement is motivated by an attempt to keep America predominantly white was puzzling, to put it mildly, given the reality that abortion disproportionately takes the lives of unborn children in minority communities in America – not to mention the deeply eugenic history of the abortion rights movement," Connell told the student newspaper.
Abortions hurt every race and culture, but black Americans have a disproportionately high number of abortions compared to other racial groups. According to census data, African Americans make up about 13 percent of the U.S. population but have about 30 percent of the abortions.
African-American teenage abortion rates are more than twice as high as the national average. The African American abortion rate is 41 per 1,000 women ages 15 to 19, according to a study conducted by the Guttmacher Institute. The national average abortion rate is 18 per 1,000 women ages 15 to 19.
There is evidence that the abortion industry targets black and other minority unborn babies for abortion as well. Planned Parenthood founder Margaret Sanger was a widely-known eugenicist. She described immigrants and minorities as "human weeds," "reckless breeders" and "spawning … human beings who never should have been born" in her book "Pivot of Civilization." 
That disturbing ideology appears to be alive today as well. Research by Protecting Black Life found that 79 percent of Planned Parenthood surgical abortion facilities are located within walking distance of black and Latino neighborhoods.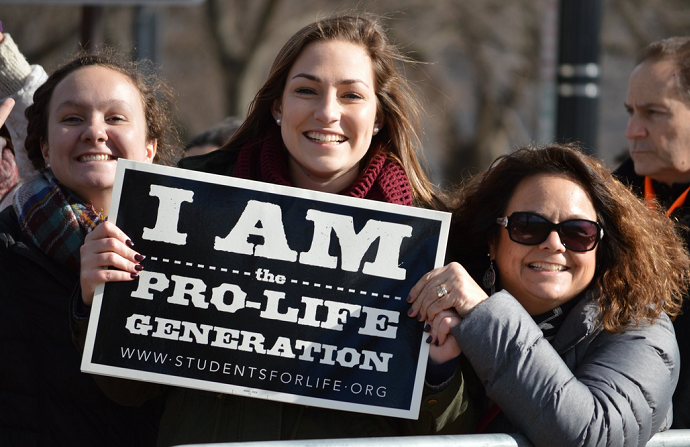 Go to Source
Author: Micaiah Bilger