The newly elected Arizona Sen. Kyrsten Sinema refused to be sworn in using a Bible. She chose instead to place her right hand on the U.S. Constitution and the Arizona Constitution.
Apparently, she always gets sworn in on the Constitution simply because of her love for the Constitution," the senator's office said.
Why not just be honest and say you hate the God of the Bible because He convicts you of your sin. (she's no different than the rest of the unsaved world)
And when He has come, He will convict the world of sin, and of righteousness, and of judgment: of sin, because they do not believe Me;

John 16:8,9 
Kyrsten Sinema is no different than any other Christ-rejecting unbeliever. She is just like every other lost person that needs God to open her heart to the gospel.
When stories started showing up online the right wing contingent was brutal and the comments were even worst. Being Conservative doesn't mean you're a Christian.
Behave Like a Christian Not Like the World
As Christians, we are not to protest, complain, gossip or grumble about ANYTHING!  We are admonished by the Lord to submit to authorities and pray for ALL mankind believers and unbelievers. Judging the unsaved world is for God. (1 Corinthians 5:13)
Remind them to be subject to rulers and authorities, to obey, to be ready for every good work,

Titus 3:1
to speak evil of no one, to be peaceable, gentle, showing all humility to all men.

Titus 3:2
The "all men" in verse 2 is clearly speaking of even the unsaved world. Read the next verse below.
For we ourselves were also once foolish, disobedient, deceived, serving various lusts and pleasures, living in malice and envy, hateful and hating one another.

Titus 3:3
We were all sinners before we believe the gospel. (Romans 6:23)
Christians are to pray for all mankind. That's everyone saved and unsaved.
Therefore I exhort first of all that supplications, prayers, intercessions, and giving of thanks be made for all men,

I Timothy 2:1
For kings and all who are in authority, that we may lead a quiet and peaceable life in all godliness and reverence.

I Timothy 2:2
Most Christians probably don't even know these verses are in their Bible.
The bottom line is that what she did by refusing to use the Bible is no different than what the other billions of lost people do every day. Where's the outrage? Where are the caravans of Christians sharing the gospel up and down my street?
Christians need to stop complaining and share the gospel with them.
We are Ambassadors for Christ
It's up to Christians to share the gospel with the lost world. We know what the unbeliever faces and isn't pretty.
In flaming fire taking vengeance on those who do not know God, and on those who do not obey the gospel of our Lord Jesus Christ.

II Thessalonians 1:8
These shall be punished with everlasting destruction from the presence of the Lord and from the glory of His power,

II Thessalonians 1:9
The lost face eternity tormented in the lake of fire "bodily".
God left us here to share the gospel with the lost, with Krysten Sinema's of the world. If they don't believe they don't believe they made their choice and they will face Jesus Christ at the great white throne.
Bonus Content…
Political Commentary
Watching the neverending onslaught of political ads all-day-everyday between Kyrsten Sinema and Martha McSally was enough to drive anyone nuts. Being a resident here in Mesa, Arizona, local television was swamped 24/7 with political ads from the aforementioned.
What was even more perplexing than the non-stop display of political ads was the end result. So how did a far, far, left, anti-US Constitution, anti-God (she's not affiliated with any religion), Pro-Abortion, Bi-Sexual, Democrat win? In Arizona, where by the way she made negative comments about her own State that you'd think for sure sealed the win for Martha McSally. Nope!
Those horrible comments alone should've pushed McSally right into the Senate seat. Here are some of the crazy comments Sinema made.
Kyrsten Sinema doesn't think that Arizona is a safe place, Krysten Sinema thinks Arizona is the meth lab of Democracy and she compares the State of Arizona to Lyndsay Lohan's fame. Geez!
Kyrsten Sinema still won. The margin of victory is meaningless. What is frightening is that 1,191,000 Arizona residents voted for her.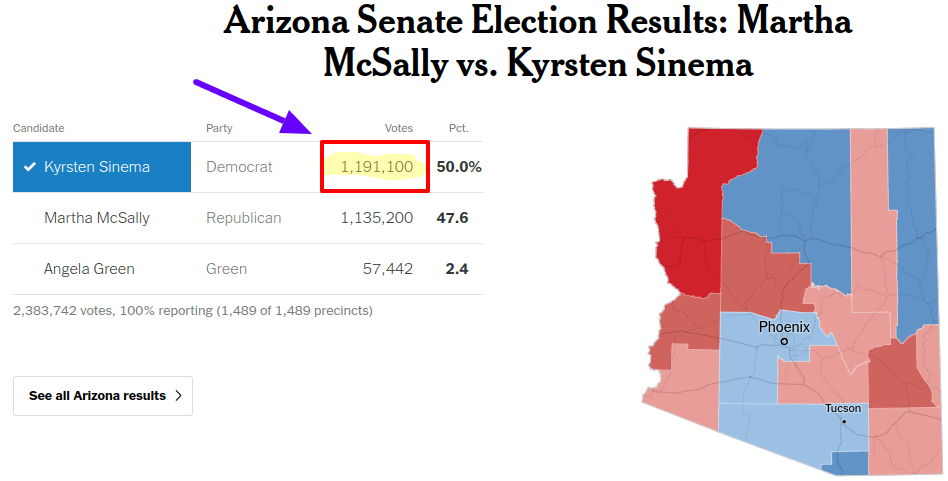 Could Be Trouble for Arizona's GOP
It's too early to see what these 1,191,100 Arizonan's that voted for Kyrsten Sinema really mean. My opinion is that those 1.1 million represent a shift within the voting base in Arizona.
Both candidates are well known in Arizona, so are their political views and voting records. Arizona voters know who they're voting for and what their candidate is about. That's my point, Arizonan's made their decision based on what they knew about each candidate.
On the Republican side, you have Marth McSally, amazing Military story, combat fighter pilot, a strong supporter of border security and on and on. Everything that represents Arizona.
On the Democrat side, you have Kyrsten Sinema, has nothing near McSally's background. Off the chart leftist, pro-abortion, anti-God, and bad mouthed her very state multiple times.
And 1,191,100 Arizonan's voted Kyrsten Sinema over Marth McSally. 
Mindboggling to say the least.
We shall see how those 1.1 million voters play out over the next couple of municipal and State elections here in Arizona. But this is a huge victory for Democrats could potentially be trouble for the Republican Party here in Arizona. To be honest, when I read the local conservative pundits I don't think they have a clue. 
Thank you for reading.
If you like this article please consider sharing.
Unreal Post
Christian News Concerning Christians with Biblical Commentary