Seyi Omooba is conducting herself inline with the gospel of Christ, and she is being persecuted for it. But she has nothing to fear because the God of creation is faithful and just. Christans' have His promise not only that we are His (salvation) but He will punish our persecutors. Read on…
'Only let your conduct be worthy of the gospel of Christ, so that whether I come and see you or am absent, I may hear of your affairs, that you stand fast in one spirit, with one mind striving together for the faith of the gospel, '

Philippians 1:27
Stand fast is a popular phrase used by the apostle Paul, (Holy Spirit inspired of course) and that's exactly what all Christians must do. Take a firm stance on our salvation with the knowledge of Who it is that we place our faith, and what it is Christ did to save us. "The Cross".
As believers, we have God the Holy Spirit indwelling us (2 Corinthians 5:5; Romans 8:16) and it is the Holy Spirit that leads us and gives Christians' the strength to overcome the troubles that come with persecution. There is nothing that we do because we can do nothing, it is Christ Who Strengthens us.
'I can do all things through Christ who strengthens me.'

Philippians 4:13
The troubles of this world including the persecution that comes "just because we are Christians" are real and tangible but so is our God.
'You are of God, little children, and have overcome them, because He who is in you is greater than he who is in the world. '

I John 4:4
So when it comes to Christian Persecution we should expect it and for some, it will be greater than others. But when believers are persecuted and not terrified is proof of two things;
Eternal Punishment and damnation for the 'Persecutor'.
And to the persecuted believer and to the world that you are God's child.
Read on… because the Word of God says it best.
'and not in any way terrified by your adversaries, which is to them a proof of perdition, but to you of salvation, and that from God. '

Philippians 1:28
Ultimately, Christians need to take comfort in the fact that we are children of God and He did not give us a Spirit of fear and bondage. That no matter what we face in this life; persecution, heartache, pain, sorrow, loss of a job, whatever it may be it pails in comparison to the glorious future we have with our Lord and Savior Jesus Christ.
For I consider that the sufferings of this present time are not worthy to be compared with the glory which shall be revealed in us.

Romans 8:18
To read about why homosexuality is a sin Go here.
Commentary by Unreal Post
Story below…
---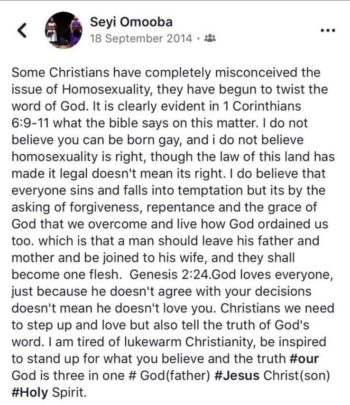 The picture on the left is a snapshot of the facebook post that started the Persecution of Seyi Omooba.
Told to renounce her faith or lose career
Since being released by the agency, Seyi has tried to find work in theatre but appears to have been blacklisted. One agency she approached for roles told her that: "Homophobia is illegal. It is not a matter of faith" and added that the agency would help her once she came "to her senses on this matter" and when she had "got away from the ideologies of your entire upbringing".
Seyi said: "When I received the email that I was going to be dropped from the cast, I was heartbroken. The agency told me that I would receive financial compensation, but I am not in this for the money. For me it's not about the money or my face – it was about telling and expressing Celie's story, as I interpret it as a performer, because that is what I love to do.
"Yet the theatre and the agency gave me the choice of either losing my career or renouncing my faith. I could not do this, not even to save the career that I love.
"As a result of my case, I want our society to be more open to both sides of the debate and to accept that many Christians do not believe homosexual practice is right. Even though there are differences in belief, we need to be more loving to each other, we need to understand each other's struggles – that is what my post in September 2014 was all about. No one should be treated as I have been because of expressing these beliefs."
A Christian West End actress, Seyi Omooba, was removed from a leading role in a musical and dropped from her agency for a Facebook post citing the Bible over four years earlier. With help from the Christian Legal Centre, she is launching a legal challenge of the theatre and the agency. The case raised the question of whether Christians have the freedom to hold and express Biblical mainstream views in public. It also raises the issue of whether, as a society, we are allowed to hold and express opinions and interpretations of art, literature, and drama in ways that are contrary to LGBT ideology. Raw God-given talent Seyi had developed her raw, God-given talent from a young age singing gospel in church and studying performing arts at Anglia Ruskin University. On 14 March 2019, Seyi was given the lead […]
Click here to view the original web page at christianconcern.com
Let's continue the conversation on Facebook!
Your opinion matters! Join the conversation on our Facebook page and speak your mind!
The Good News
salvation
Salvation is a FREE GIFT from God. You don't have to do anything but believe by faith that God sent His only Son Jesus Christ to die for your sins, was buried, and rose from the dead 3 days later.
THE GOOD NEWS
SALVATION
Salvation is a FREE GIFT from God. SALVATION IS BY FAITH ALONE & FAITH IS BELIEVING WHAT GOD SAYS.
God declares all mankind sinners and we all fall short of Glory of God. Romans 3:23
The payment for our sin is death. Romans 6:23
But God...because he loved you so much sent His own Son, Jesus Christ, to die in your place, for your sins, was buried, and rose from the dead three days later. 1 Cor 15:1-4; 2cor 5:21
All God asks is that you believe by faith alone in 1, 2, & 3. That you're a sinner, separated from God but God sent his Son to die for your sins, was buried & rose again 3 days later.
'that if you confess with your mouth the Lord Jesus and believe in your heart that God has raised Him from the dead, you will be saved. '
Do You Believe?